Ready to shop 'til you drop?
From luxury brands to quirky boutique shops, vintage stores, and unique finds, Ventura County Coast provides countless shopping options for everyone. Check out these spots to find your purchasing paradise!
Retail Shopping
Camarillo Premium Outlets
Conveniently located off Highway 101, Camarillo Premium Outlets features 160 stores, including favorites such as Kate Spade New York, Banana Republic Factory, Tommy Hilfiger, Nike Factory Store, Michael Kors, and more. There are also some excellent dining options such as Pink's Hot Dogs, Panera Bread, Fatburger & Buffalo's Express and grab-and-go choices like Charleys Philly Steaks, China Max, and Starbucks.
Old Town Camarillo
With great restaurants, bars, boutique shops, salons, art galleries, and fitness studios, Old Town Camarillo offers something for everyone. Pick up unique treats at Rocket Fizz, eat a burger at BLVD BRGR, buy some wine at The Wine Closet, and end the day with ice cream from Mister Softee.
Photo Credit: @visitcamarillo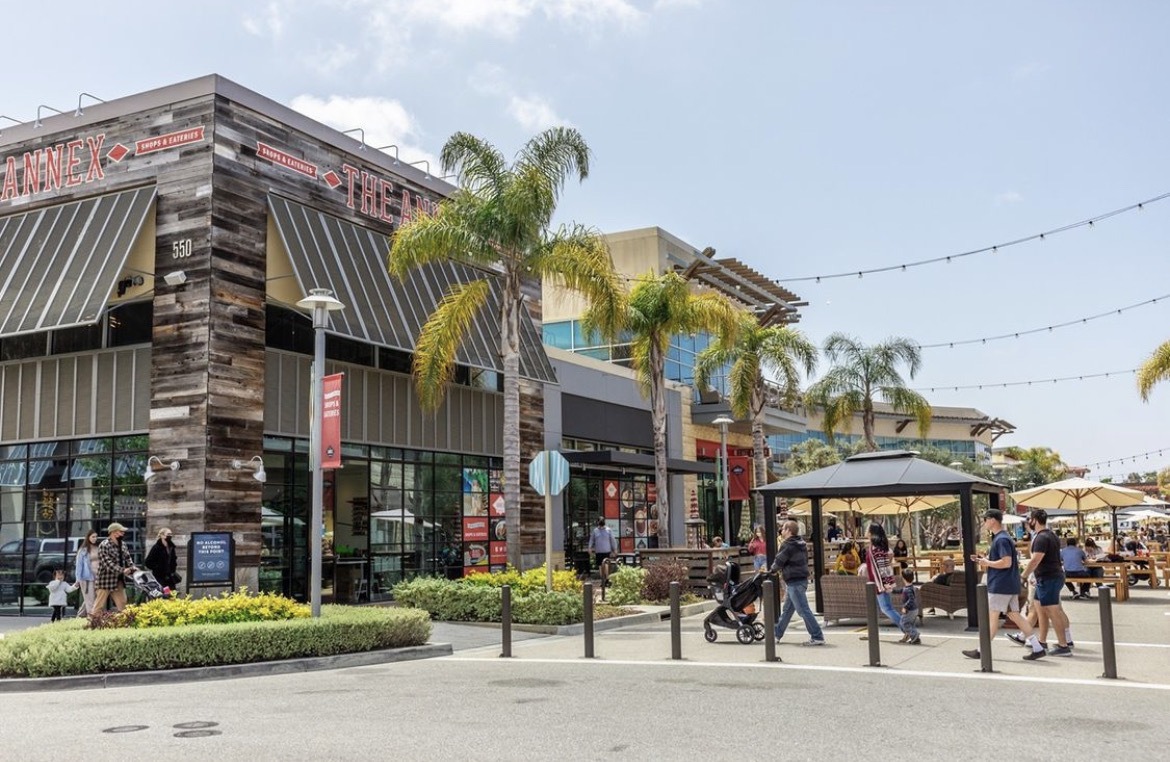 The Collection at Riverpark, Oxnard
The Collection at Riverpark in Oxnard is an outdoor shopping center with an eclectic mix of well-known retailers such as Target, Ulta Beauty, Whole Foods Market, H&M, MAC, REI, and more. Stop in at The Annex Food Hall, a new collection of  purveyors (from ramen to Nashville hot chicken, waffle sticks and other flavorful options) blending dining experiences and unique flavors in a shared space. Pause your shopping for a bite at Five Guys Burger and Fries, Kabuki Japanese Restaurant, Lazy Dog Restaurant & Bar, Yard House, and many others. There's no shortage of both kid-friendly and adult entertainment including newly opened Bowlero for bowling and arcade games, Red Door Escape Room and Copper Blues Rock Pub & Kitchen.
Photo Credit: @thecollectionrp
Channel Islands Harbor
Find hidden treasures at the Channel Islands Harbor in Oxnard. Every Sunday you can find the Farmer's Market filled with arts, crafts, fresh seafood, and locally grown produce. Check out Studio Gallery and Lisa Kelley Art Studio for fine arts and crafts.
Photo Credit: @isabellawrence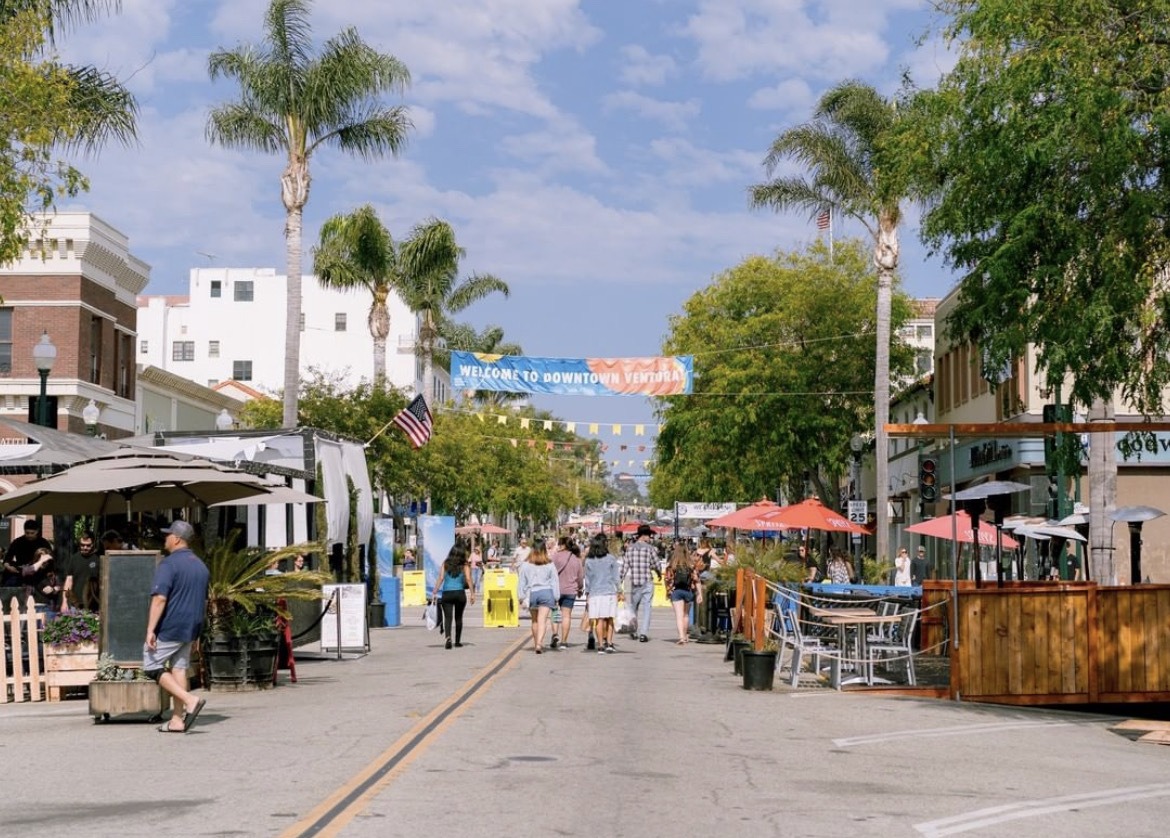 Downtown Ventura
The cool ocean breeze provides comfort while shoppers hit up an outstanding mix of locally owned shops including clothing boutiques, art galleries, one-of-a-kind jewelry, swimwear, and home and garden shops in Downtown Ventura. No matter what you're looking for, you'll find it in Downtown Ventura, and it will seem like every shop is calling your name! There are also many great food and beverage options here, such as Barrelhouse 101, El Rey Cantina, Ventiki Tiki Lounge and Lanai, Anacapa Brewing Company, and more! Hours vary at each establishment.
Photo Credit: @downtownventura
Ventura Harbor Village
Not only does Ventura Harbor Village have a beautiful view, it also has unique boutiques and galleries. For some of the latest trends and coastal finds, check out Barefoot Boutique, Lost in Socks, Treasure Cove, and Ventura Swimwear. After you've built up an appetite shopping, choose from a variety of casual waterfront dining options such as Andria's Seafood Restaurant, Copa Cubana, 805 Bar & Grilled Cheese, La Petit Cafe, and more. It's easy to spend the whole day here, and it's pet-friendly!
Photo Credit: @venturaharbor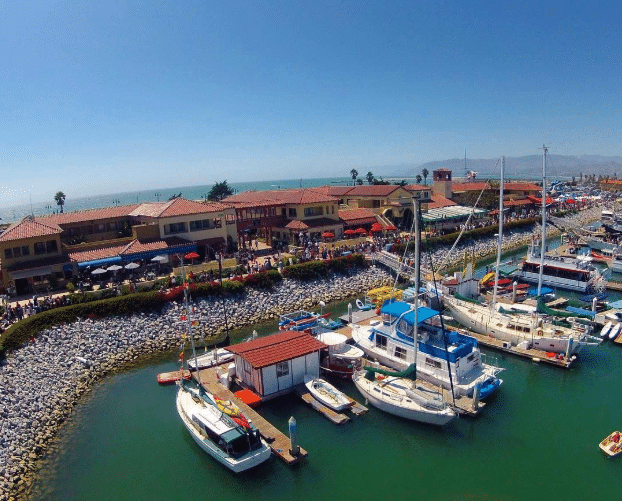 ---
Farmer's Markets
Camarillo Certified Farmers Market
When: Every Saturday, 8 a.m. to 12:00 p.m.
Where: Old Town Camarillo
About: At the Camarillo Certified Farmers Market, you'll discover a delightful journey of locally sourced wonders. Rest assured, you'll buy directly from passionate farmers, enjoying the freshest, certified organic produce. Savor mouthwatering dishes from talented food vendors, taking home extraordinary meals enriched with local flavors. Explore fine arts and crafts made by skilled artisans, supporting local talent and bringing home unique treasures. Wander through this lively marketplace, immersed in a symphony of colors, tastes, creativity and sound! A true celebration of community spirit in this coastal gem.
Channel Islands Certified Farmer's Market
When: Every Sunday: 10 a.m. – 2 p.m.
Where: 3600 S. Harbor Blvd, Oxnard, CA
About: Experience the ultimate farmer's market at Channel Islands Harbor! Stroll through this bustling market and be captivated by wide variety of vendors. Here you'll find sustainable dockside seafood, locally grown produce, and vibrant flowers. Enjoy the lively atmosphere enhanced by live entertainment provided by talented local musicians, adding a delightful rhythm to your shopping experience. While you explore the diverse offerings, be sure to discover a treasure trove of amazing arts and crafts skillfully crafted by talented local artisans. Channel Islands Harbor's Certified Farmer's Market is a must-visit destination for first time visitors to the area.
Ventura Certified Farmer's Markets
When:
Midtown Ventura: Wednesdays 9:00 a.m. – 1:00 p.m.
3301 N. Main Street, Ventura, CA 93003
Downtown Ventura: Saturdays 8:30 a.m. – 12:00 p.m.
200 Block East Main Street, Ventura, CA 93001
About: Ventura County Certified Farmer's Markets offer an enchanting experience twice a week, come rain or shine. Immerse yourself in a cornucopia of delights at both the Midtown Ventura and Downtown Ventura markets. Stroll through the vibrant stalls brimming with an abundant harvest of fresh, organic produce, artisan breads, delectable honey, farm-fresh eggs, and an array of lush plants and flowers. Satisfy your cravings with mouthwatering meals, lovingly handcrafted by local food vendors, adding a dash of culinary magic to your market adventure.
For Bargain Hunters & Collectors!
Thrift Shops Galore!
Ventura County Coast is a thrift shopper's paradise, offering a delightful blend of everyday necessities and vintage treasures. In Downtown Oxnard and Ventura, you'll find a treasure trove of thrift shops conveniently located within a short stroll from one another. Camarillo's thrift shops are equally accessible, just a stone's throw away from each other, separated only by highway 101. And for those visiting the Channel Islands Certified Farmer's Market in Port Hueneme, a seven-minute bike ride leads you to a spacious Goodwill shop. Our region's thrift stores never fail to surprise with their remarkable collection of rare vintage items, collectibles, and premium brands, making every shopping expedition a delightful adventure.
Community Markets & Swap Meets
Ventura County Coast is a haven for bargain hunters and collectors, offering vibrant community markets and swap meets that are an absolute must. The Ventura College Community Market is a delightful fusion of a flea market and a farmer's market. Find unique offering from treats, crafts, clothing and more from Latin America. At the Vogue Swap Meet in Downtown Oxnard, you'll uncover fantastic deals on clothing, leather goods, and charming gifts. The Ventura County Fairgrounds, a treasure trove of specialty flea markets, hosts weekly swap meets and captivating shopping events like the Seaside Oddities Expo and Seaside Sunday Flea Market, presenting a treasure trove of unique discoveries. Explore the Fairgrounds website for a wealth of shopping opportunities that you won't find anywhere else.
More Shopping Destinations
Tag your Ventura County Coast photos with #VCCVibes for a chance to be featured!