Thrill-seekers and outdoor fanatics rejoice…
With its stretches of rugged coastline and stellar panoramic views, Ventura County Coast is the place to play and find your vibe. Roughly an hour north of the LA area, Ventura County Coast offers a buffet of extreme outdoor activities – from skydiving to surfing a shipwreck site – that is sure to whet your appetite for adventure. Pair that with the area's fresh cuisine and range of lodging options and you've got yourself a thrill-worthy road trip not for the faint of heart!
Get Stoked
Surf, sunbathe, swim or simply relax at any of our local favorite beaches! With plenty of opportunity to catch a wave—for beginners and surfing pros alike—you can't go wrong when choosing a sandy, sun-soaked spot to spend the day.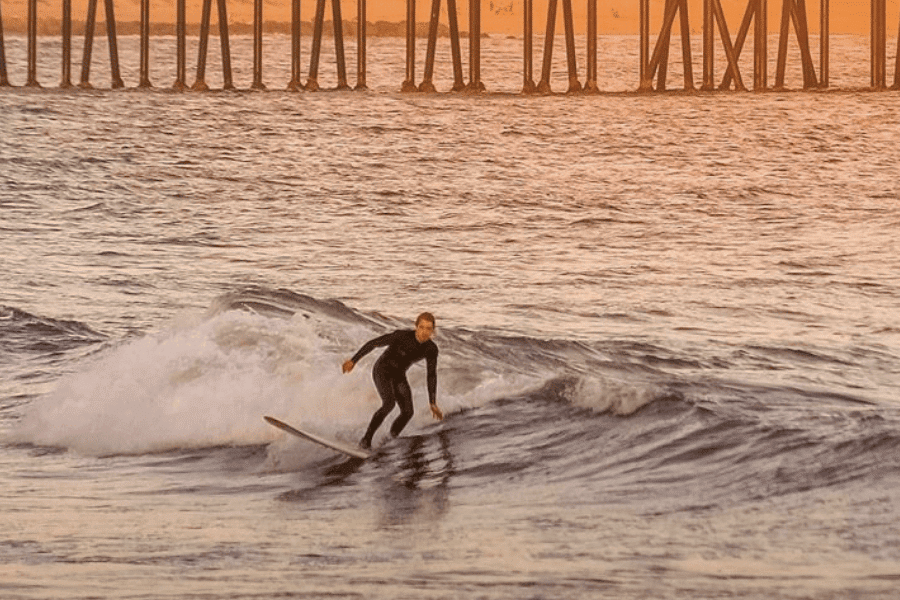 Beat the crowds at Port Hueneme Beach. Known for its consistently amazing breaks and pristine, uncrowded shoreline, Port Hueneme (pronounced why-NEE-me) is a reliable favorite for groms and seasoned surfers alike.
There's a lot for novices to like about Mondo's Beach. Just north of Ventura and known for its beginner-friendly waves and long rides, Mondo's Beach is a great spot if you're new to surfing or just want to take it easy on the mellower breaks.
📷@david_joseph_photo
Silver Strand Beach in Oxnard is practically a household name in these parts, and its mile-long stretch of beach is split into three sections: The Jetty, The Bowl, and La Jenelle (named for the ill-fated steamer that was driven aground during a storm in 1970). The areas to the side are better for newbies while the Bowl's rougher sandbar waves are better suited to intermediates.
Located near the Ventura Pier, C Street/Surfers' Point is also south-facing, with consistent, right-hand waves that curl around the point. This spot is beloved by longboarders and shortboarders alike due to its long, easy rides toward the pier.
Made world famous by its namesake the Rincon Classic, Rincon Point State Beach is often called "The Queen of the California Coast," and it's not hard to see why it's reigning surf royalty. Also divided into three sections, the point is south-facing, creating a beautiful right when conditions are ideal.
Jet Ski The Pacific Ocean
Jet skiing is a popular activity on the Ventura County Coastline. With 44 miles of coastline, you can speed through the waves and explore secluded coves and beaches on your own personal watercraft. Whether you're a seasoned jet skier or a first-time rider, jet skiing is an exciting way to experience the natural beauty of the Ventura County Coast.
Get Hyped
If surfing doesn't fulfill your need for speed, you can always indulge your inner adrenaline junkie with a skydiving tour! Let the stunning panoramic views of the coastline – and the freefall drop from a plane 2 miles up – take your breath away as you soar above lush mountaintops and deep blue bays at top speed.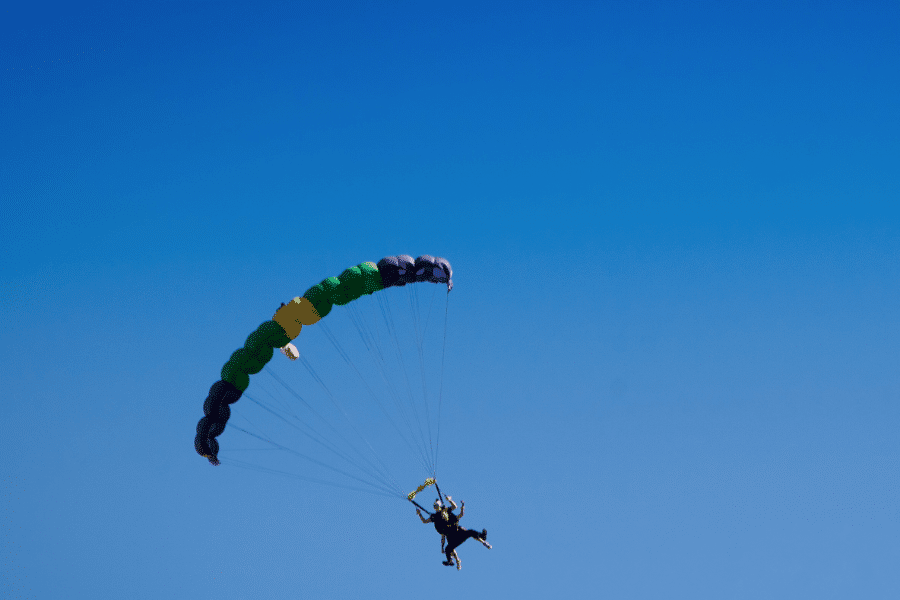 Skydive Coastal California in Camarillo offers discounts for students and service members, and its expert instructors are known for their friendly, humorous approach to putting rookie divers at ease. Classes are for four to six people and include 30 minutes of pre-flight instruction. You'll also get an Insta-worthy, 120-mph freefall video – not that you'll forget the experience anytime soon.
Already an advanced diver? Challenge accepted! Try your hand at freeflying, bellyflying, skyboarding, or even the new birdman suit! Bring a fellow thrill-seeker and share the experience of a lifetime with one of California's most stunning stretches of coast as the backdrop.
Get in Gear
Sky and surf not your vibe? Adventure-seeking landlubbers, look no further! Ventura County Coast is chock full of scenic bike paths and trails for cyclists of all skill levels.
Freedom Park Raceway is a must-visit destination for BMX enthusiasts on the Ventura County Coast. This world-class BMX track is located in Camarillo and offers riders of all levels a thrilling experience. With challenging jumps, twists, and turns, the track is designed to push riders to their limits. The park is well-maintained, and safety gear is available for rent. Riders can take advantage of the park's amenities, including a snack bar, picnic area, and restrooms. Whether you're a seasoned BMX pro or a novice looking to test your skills, Freedom Park Raceway is a top destination for adrenaline-fueled fun.
No bike? No problem! Ventura Bike Depot offers an impressive selection of rentable bikes, including electric ones! Stop in just steps away from the Ventura waterfront bike path on Main Street to get equipped with everything you need for an exhilarating excursion.
Ventura County Coast is home to some beautiful rides. The next step is deciding where to hit the trail (or the pavement)!
Camarillo: Looking for a flat bike path with no cars? Calleguas Creek bike path runs 2 miles from Pleasant Valley Fields up to the corner of Flynn and Upland Roads in Camarillo.
Oxnard: One of the most popular bike paths starts at the ocean side of Oxnard Beach Park at Mandalay Beach Road at Beach Way and takes you south all the way to Hollywood Beach and Channel Islands Harbor.
Ventura Beach Bike Trail: Meandering along the Ventura River and C-Street Promenade, this beautiful path takes you past Surfer's Point and the Ventura Pier and ends at San Buenaventura State Beach.
Omer Rains Trail: Beginning at San Buenaventura State Beach and skirting the shoreline to the waterfront promenade, this trail offers ocean breezes and ample opportunities to spot local wildlife.
Port Hueneme Beach: Perfect for people-watching, this path is ideal for beginners or anyone ready to soak in some sunshine.
The Islands Are Calling
Hike in stunning natural beauty at Channel Islands National Park. Santa Cruz Islands boasts 14 amazing hikes that will impress the most avid adventure seekers. Bask in unmatched natural beauty found no-place else on earth. Be sure to bring your camera for Instagram worthy photos!
Photo Credit 📸 @Kamilo Bustamante
Take a Kayak tour of Channel Islands National Park from Oxnard or Ventura Harbors. Known as one of the largest seacaves in the world. Painted cave is nearly a quarter mile deep. Explore the kelp beds and rich sea habitats of the national park.
Photo Credit 📸 David S Yoon
Go Skate
The Ventura County Coast is a haven for skateboarders with a variety of skate parks spread throughout the region. Ventura's Skatepark, known as "The Cove," is a popular spot for skaters with its unique layout, bowl and street features. Oxnard's Rio Lindo Skatepark is a spacious park that offers a mix of street and transition elements, making it perfect for both beginners and experienced skaters. In Camarillo, the Freedom Park Skatepark is a favorite for BMX and skateboarding enthusiasts alike, featuring a diverse range of obstacles and challenges. Port Hueneme Skatepark is another great option with a variety of features and obstacles for skaters of all levels. Whether you're a beginner or a pro, the skate parks in Ventura, Oxnard, Camarillo, and Port Hueneme offer endless opportunities to practice your skills and have fun.
Get Inspired and Plan Your Trip
Tag your Ventura County Coast photos with #VCCVibes for a chance to be featured!