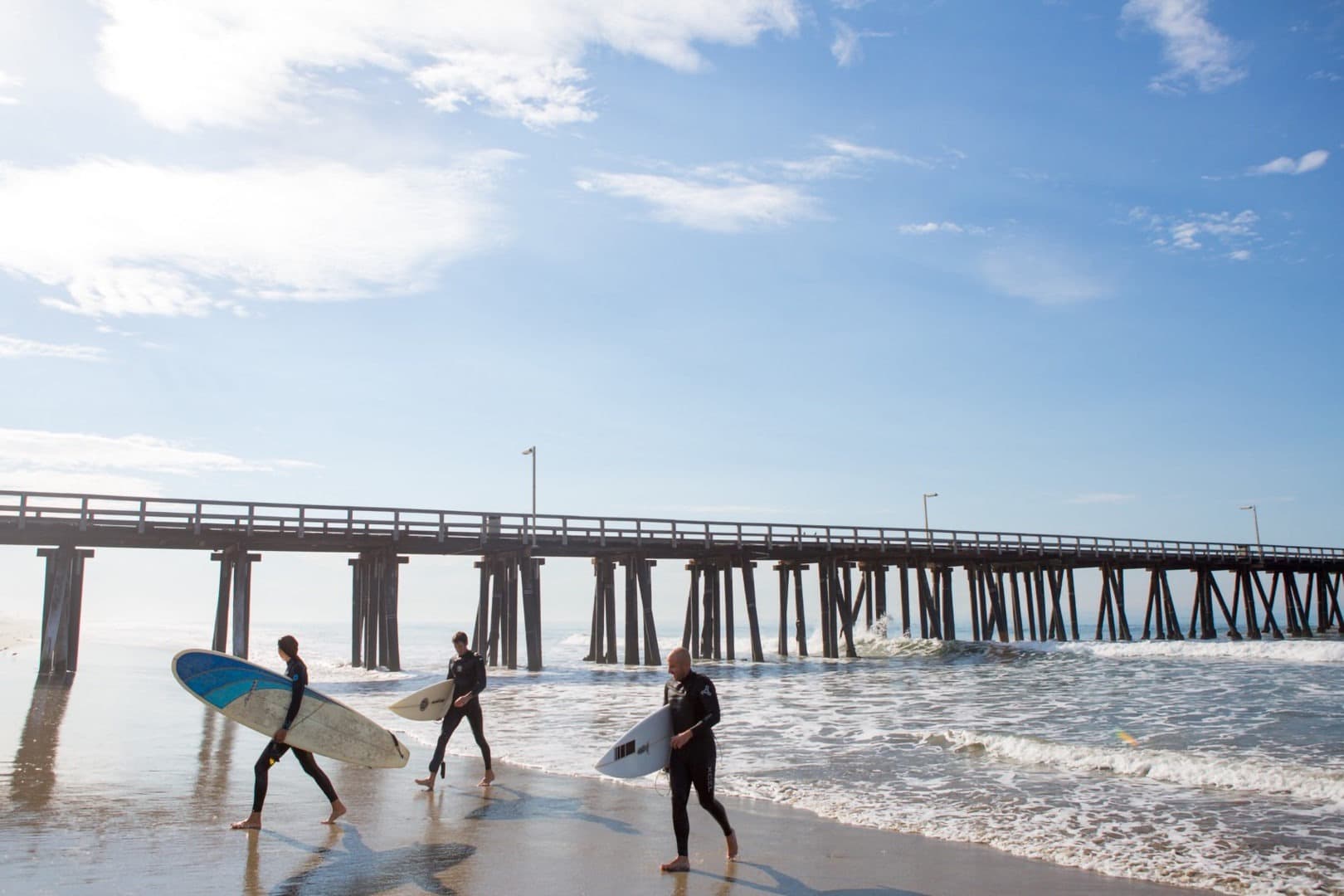 Surf's Up, Dad!
Embarking on a Surfari with your dad is an unbeatable experience. Even if you're new to surfing, Ventura County Coast offers excellent beginner spots that are perfect for novices like you. If you're unsure where to begin, our comprehensive guide to the top surf spots will assist you in finding the ideal location based on your skill level. Should you require surf lessons, our surf guide provides all the necessary information to ensure you'll be riding the waves by Father's Day. Get ready for an incredible surfing adventure with your dad!
Tee Time for the Best Dad Swing
Discover the outstanding golf courses and country clubs that provide exceptional golfing experiences tailored for dads. Camarillo boasts a selection of premier golf courses along the coast, guaranteeing an unforgettable outing. Additionally, Port Hueneme's Naval Base features a fantastic golf course accessible to the public, ensuring a memorable day on the greens. When in Oxnard, be sure to explore the two remarkable public golf courses, both of which are highly recommended and worth a visit. Ventura also offers a choice of two splendid golf courses, providing ample options for avid golfers seeking a memorable experience.
Casting Memories: Fishing Fun for Dads
Embarking on a memorable sport fishing expedition to the Channel Islands is an exceptional way to create lasting memories and enjoy quality time with your dad. Both the Channel Islands and Ventura Harbors boast incredible sport fishing landings, featuring skilled captains who know how to find the fish. Looking for more affordable fishing opportunities? Our piers in Port Hueneme and Ventura are great for catching smaller fish while spending quality time with Dad.
Cheers to Dad: Craft Beer and Breweries
Brewery crawls have become increasingly popular along the stunning Ventura County Coast. The cities of Oxnard, Camarillo, and Ventura are home to a plethora of exceptional craft breweries, offering an ideal setting for an unforgettable beer crawl along the coast. With their diverse selection of brews, these cities promise a remarkable and enjoyable experience for beer enthusiasts seeking to explore the vibrant craft beer scene.
Father's Day Feast
Ventura County is a culinary haven, boasting diverse restaurants in towns like Camarillo, Port Hueneme, Oxnard, and Ventura. From fresh seafood to farm-to-table delights and international flavors, the county offers a range of dining options. With fine dining, cozy cafes, and hidden gems, touring Ventura County's restaurants guarantees a memorable gastronomic adventure and a taste of the region's flavors.
Pedal with Pops
Discover amazing cycling options along the coast. Port Hueneme and Oxnard offer beachfront bike paths, while the coastal route takes you from Mugu Rock all the way to Rincon Point. Camarillo features 5 scenic biking trails in the chaparral wilderness. Ventura has a vast network of bike paths in the city and beach areas. Rent e-bikes or traditional bikes in downtown or the promenade for leisurely touring. Pedal through the captivating Ventura County Coast and create cycling memories!
Tag your Ventura County Coast photos with #VCCVibes for a chance to be featured!